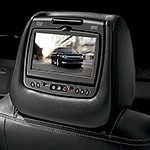 Having advanced tech features in your car can make driving more convenient, safe and entertaining. One vehicle that has many great technology feature options is the Ford Flex.
One tech feature of the Ford Flex is the BLIS cross-traffic alert system. With this system, you are going to receive indication whenever you are backing out of a spot. It will notify you if there is a car or pedestrian coming from either direction, which may be in your blind spot. This will be particularly helpful in busy cities and shopping centers. The Flex also has adaptive cruise control. This feature will adjust your speed based on your surroundings. If you are approaching a car, it will automatically slow you down.
The Ford Flex clearly has many impressive technology features. When you are looking for a Flex, you should come to Cortese Ford to learn more about it. When you come in, you can even test-drive one yourself to enjoy all of the amenities.