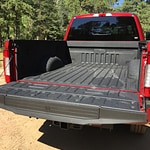 The Ford Super Duty pickup truck stands out as one of the premier super duty trucks on the road today. It is built for durability and strength, featuring impressive and powerful designs that outdo its competition.
To start, it is constructed from military-grade steel that gives it a rough and rugged body. This popular super duty truck can be driven in any environment, even rocky and bumpy outfields like pastures and construction sites. Its body also prevents damages to both the truck and its occupants during crashes. It absorbs the impact and helps you avoid serious injuries during head-on or side impacts. Despite its sturdy steel design, Ford's Super Duty truck is also lightweight and fast. It is designed for easy handling on the road and is not bogged down by a heavy body.
The best way to experience the new Ford Super Duty's impressive durability is to test drive one today.