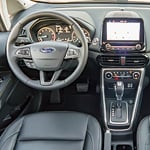 Subcompact SUVs are not often viewed for their strength and capability, but the Ford EcoSport proves even small vehicles can be quite powerful. Ample towing power, a few engine options, and modern amenities add to the inherent abilities the Ford EcoSport already possesses. Taking the potential of subcompact SUVs to new heights, the Ford EcoSport is making a reputation for itself in a popular market segment.
The Ford EcoSport has many personalities that affect its capability features. When equipped with a turbocharged three-cylinder, this small SUV is quite agile and peppy. However, a sturdier four-cylinder creates the base for more towing power. In fact, this engine implementation allows the Ford EcoSport to tow up to 2,000 pounds with ease.
Not every aspect of the Ford EcoSport's capability is related to its powertrain makeup, though. Available Intelligent 4WD transforms this subcompact SUV into an off-road warrior. Providing it with extra strength and traction to travel across varying surfaces, Intelligent 4WD is a feature many buyers opt for.