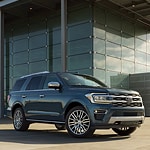 The 2022 Ford Expedition stands out as one of the top SUVs on the road for its large size and commanding stance. LED lights are present on the front of the vehicle to increase your view of the road in dim settings. The rear of the car also makes the SUV visible to other drivers with the oversized tail lights, which look contemporary with their unique shape.
The roof rack that comes standard on the SUV offers a high level of convenience while traveling or taking road trips. Turn signals are also present on each side mirror to conveniently communicate with other motorists.
The shape of the Expedition is less boxy and has more curves compared to previous generations, allowing the vehicle to appear more sleek and sophisticated. The edgy wheel rims also contribute to the intimidating design of the car with their clean and minimal appearance.