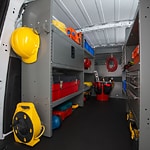 The Ford Transit Connect delivers an ideal combination of space, convenience and performance along with a wealth of modern tech features. We here at Cortese Ford are sure that you'll love the new Transit Connect models and are pleased to have the current year's edition standing by for your inspection at our showroom in Rochester right now.
Whether you plan to use your new Transit Connect as part of an existing corporate fleet, as a stand-alone vehicle for running your business or as regular transportation for your family, you'll find all the tech and connectivity amenities that you need are available as standard or optional equipment.
You can take advantage of Ford's business data management capabilities designed specifically for corporate vehicles or access everything in your smart device thanks to Apple CarPlay and Android Auto compatibility. Wireless charging and a cutting-edge onboard navigation system are also available.