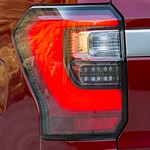 For drivers around Rochester, the best SUV of the year may just be the Ford Expedition. The new performance options, upgraded steering, and powerful handling make the Expedition a top-tier large-size SUV even for those looking for luxury vehicles. The base version of the Expedition delivers a twin-turbo V6 that gets 375 horsepower and 470 lb-ft of torque.
The top-tier version of the SUV is the Platinum edition, which offers a bit more horsepower at 400 and more torque at 480. However, all versions get up to 9300 towing capacity, except for the XLT Max version, which gets up to 9000 lbs of towing capacity.
Ford has also made the Expedition better for those who want a smoother driving experience, thanks to its independent rear axle and driving assistance options. You can test drive the Expedition at Cortese Ford to see just how great it feels to test drive the new Expedition.