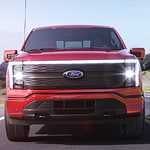 Ford has recently released several eco-friendly vehicles in the market. The all-new Ford F-150 is one of most popular in the lineup that offers the best-in-class comfort and high-performance. Whether you are looking for a heavy-duty full-size pickup truck for your jobs or one for your daily grind in the city, the Ford F-150 is sure to deliver.
This vehicle has front and rear motors, all-wheel drive, and seats five people. It is powered by permanent-magnet synchronous AC motors and has an onboard charger with power output of 11.3 or 19.2 kW. In addition, it has a liquid-cooled lithium-ion battery pack with 98.0 or 131 kWh capacity. The front motor is rated at 452 hp, while the rear motor produces 580 hp.
The F-150 Lightning accelerates from 0 to 60 mph in 4.5 seconds with the smaller battery pack or 5 seconds with the larger battery pack installed; its top speed is 110 mph regardless of which configuration you choose.