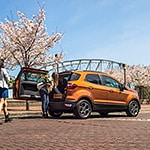 If you're interested in an SUV that focuses on enhanced driver performance and maximum interior utility, you may want to consider the Ford EcoSport in Rochester. Our people at Cortese Ford are going to help you learn about this SUV's amenities and how they can enhance your travel on the road.
The interior amenities start off by delivering features that cater to your personal needs. With two USB charging ports and 12 V outlets in the front and rear, all passengers can ensure that their devices stay charged. ActiveX Seating Material provides durability and stain resistance that sustains an active lifestyle. You can further enhance your comfort with the 110/150W AC unit and heated steering wheel that the EcoSport provides.
Driver safety and performance is a top priority, and the EcoSport provides several features to aid you with this. The Blind Spot Information System and traffic alerts help you stay aware of road conditions and other drivers within your vicinity. You also have up to date information about nearby grocery stores, gas stations and coffee shops with the Voice-Activated Navigation System.