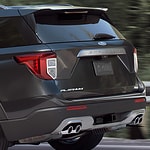 Ford Explorer is designed to last. Both inside and outside, this SUV offers a stunning experience. It has a luxurious interior design that consists of three-zone digital temperature control to keep passengers comfortable inside the SUV. The temperature in all three zones can be maintained at the same level without the need to constantly adjust or modify the settings.
A heated steering wheel is another notable feature of Ford's new Explorer. Drivers are allowed to fine-tune the steering wheel. In extremely cold weather, you can put this to good use. This function makes long-distance trips in bad weather easier.
Ford Explorer comes standard with a center console that is designed for comfort and convenience. This saves time for drivers because they don't have to look away from traffic to adjust the settings. Again, for driver's comfort and convenience, this SUV's basic rotary shifter dial has been ergonomically built. Seamless transition from one mode to the next ensures a smooth ride.